Saudi Arabia:Financial support, Fintech, SMEs development, more efforts for Vision 2030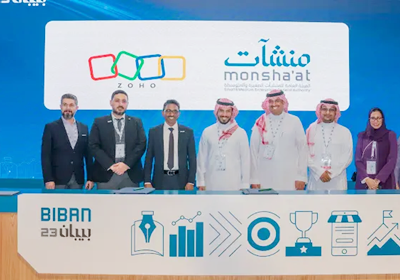 Saudi Arabia's booming fintech sector is set to be boosted by an $80 million investment fund launched by Saudi Venture Capital Co.. The 'Investment in Fintech VC Fund' was launched in partnership with Saudi Arabia's Capital Market Authority and the Financial Sector Development Program to preserve the Kingdom's fintech industry growth that attracted almost 25 percent of all Saudi venture capital funding last year. SVC aims to stimulate and sustain financing for startups and small and medium enterprises from early stage to initial public offering by backing venture capital and private equity firms all around the region. The company will strategically place the new fund to support Saudi Arabia's fintech ecosystem which raised $239 million in funding in 2022, according to venture data firm MAGNiTT.
Saudi Arabia's Small and Medium Enterprises Bank will allocate SR10.5 billion ($2.79 billion) to finance various programs for the SME sector in the next three years. The outlay will be spent on several products, as well as existing and new programs, such as the direct and indirect lending programs, the financing guarantee programs, and other investment programs, Saudi Press Agency reported. This comes in line with the financial institution's continuous efforts to support the SME sector to achieve the goals of the Kingdom's Vision 2030. The bank aims to facilitate raising the contribution of the SME sector to the country's gross domestic product to 35 percent.
SMEs can apply for financing through the bank's website which provides access to more than 48 financing agencies in the Kingdom. The bank also announced that the financing guarantee program for SMEs, also known as Kafalah, would join the SME Bank amid efforts to back its programs and expand its business with the allocation of SR1 billion.
In line with the national digitalization agenda under the Saudi Vision 2030, the Small and Medium Enterprises General Authority (Monsha'at) and Zoho Corp., a leading global technology company, announced the signing of a Memorandum of Understanding (MoU) that aims at supporting 30,000 small and medium enterprises (SMEs) in Saudi Arabia in their digital transformation journey and help accelerate their e-commerce adoption to drive forward the economic sustainability agenda.
As part of the National Transformation Programme by Monsha'at, Zoho will facilitate access to its powerful enterprise applications for local SMEs, thereby removing technology access barriers that smaller businesses face while digitalising their operations. In addition, Zoho and Monsha'at will work closely to help businesses learn how to manage e-commerce channels and deliver high-performance online retail sites by leveraging the unique capabilities of the Zoho Commerce platform. Under this agreement, SMEs registered by Monsha'at who are members of the Mazaya Programme will be eligible for a wallet credit worth $2500. The wallet credits can be used for accessing any of Zoho's 55+ cloud-based solutions to manage and streamline operations ranging from front office like sales and marketing to back office including human resources management and financial management. SMEs can also tap into Zoho Commerce, one of the few platforms in the market to offer natively-integrated Arabic website building capabilities and regional payment gateway solutions—allowing businesses to cater to a wider Arabic-speaking audience.
American multinational technology conglomerate Meta has announced the launch of a new training program named 'Meta Boost' to support 20,000 small and medium enterprises in Saudi Arabia. The new program is being carried out in cooperation with the Saudi Ministry of Communications and Information Technology and the Small and Medium Enterprises General Authority, known as Monsha'at, according to a report by the Saudi Press Agency.
The tech giant aims to support 20,000 SMEs through this initiative by providing education and training on the use of Meta products and tools to accelerate business growth online. The SPA report added that the Meta Boost program will also increase the productivity of SMEs in the Kingdom, paving the way to increase their contribution to the nation's gross domestic product to 35 percent by 2030, in alignment with the goals mapped out in Saudi Arabia's Vision 2030.