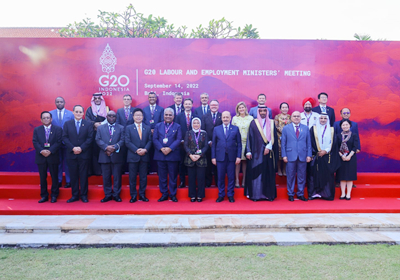 The G20 Labor and Employment Ministers Meeting, which took place in September 2022, resulted in 5 essential documents.
1.Action Plan on Accelerating and Monitoring the G20 Principles for the Labor Market Integration of Persons with Disabilities contains the members' agreement for accelerating the entry of groups of persons with disabilities into an inclusive labor market.
2.G20 Policy Recommendations for Sustainable Growth and Productivity for Human Capacity Development through Strengthening Community-Based Vocational Training (CBVT) contains an agreement to boost human resource capacity and productivity by implementing life-long learning.
3.Policy Recommendation on Promoting Entrepreneurship and Supporting MSMEs as a Job Creation Instrument contains the members' agreement to commit to bolstering inclusive and sustainable employment opportunities through the development of entrepreneurship and MSME programs.
4.G20 Policy Principles on Adapting Labor Protection for More Effective Protection and Increased Resilience for All Workers contains members' agreement to grant adaptive labor protection for all workers.
5.Update of the G20 Skills Strategy contains the members' agreement on developing integrated governance to ensure that all citizens get decent basic education and access to continuous skill improvement.