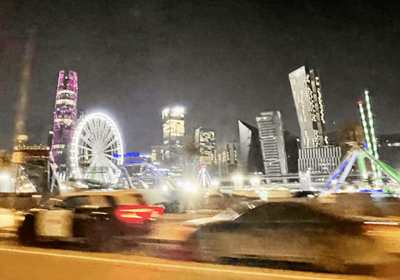 Saudi Arabia is rapidly emerging as a robust ecosystem for digital entrepreneurship, with its startup ecosystem maturing quickly and dramatically. The country focuses on developing the technology sector as part of its Vision 2030 initiative, which aims to diversify the economy away from oil dependence, create jobs, and attract high-skilled talent into the kingdom.
Over the past few years, Saudi Arabia has experienced a surge of venture capital investments. At a recent LEAP 2023 in Riyadh, according to Arab News nine funds totaling $2.4B were announced to drive startup growth; and in 2021 and 2022, VC funding in Saudi startups increased 72%, totaling $987 million across 144 deals as mentioned at Harvard Business Review.
Moreover, the Kingdom has a young and tech-savvy population with a strong appetite for digital services, making it attractive to investors. The GEM report found that 90% of respondents agreed that starting a business in Saudi Arabia was easy, placing the country in the top position among economies. Additionally, according to GEM report 80% of respondents saw opportunities to start a business due to the changes brought about by the pandemic. A key aspect of Vision 2030 is the empowerment of entrepreneurs. This has led to a positive environment for startups in Saudi Arabia. Many startups emerge and develop rapidly.
Tamara is a fintech startup that has gained significant attention in the Kingdom. The company's app-based marketplace allows customers to buy and pay for products in installments.
Trukker is a logistics startup that operates on a model similar to Uber but for trucks. The platform connects businesses with available trucking capacity, providing a more efficient and cost-effective way to transport goods.
Foodics is a cloud-based suite of solutions for restaurants. The platform provides a range of features, including sales management, inventory management, employee management, CRM, and order management catering to food businesses, including cloud kitchens.
Nana is a grocery delivery startup that operates on a dark store model. Orders are delivered to customers within 15 minutes, making it a convenient and quick option for customers.
Palm.hr is a human resources technology platform that delivers a streamlined and intuitive work experience for teams handling onboarding, vacation tracking, and payroll operations.
Marn is an HR technology startup that utilizes artificial intelligence and machine learning to provide recruitment solutions. The company operates as Saudi Arabia's first flexible future of work platform.
Saudi Arabia quickly emerges as a significant hub for venture capital and technology investments. To help foster this dynamic new startup environment, Saudi Arabia has established several venture capital firms that focus on early-stage investments in technology, fintech and other cutting-edge sectors.
PIF (Public Investment Fund) - Established in 1971 to facilitate the development of the Saudi Arabian national economy, PIF has since become an investment vehicle for venture capital investments in joint-stock companies within its domestic economy. PIF has also invested in major global tech companies such as Uber and Softbank.
STV (Saudi Technology Ventures) - Founded by Abdulrahman Tarabzouni, STV is the largest VC fund in the region, with a target fund size of $1 billion. It received a $200 million investment from Saudi Arabia's Public Investment Fund (PIF).
Nama Ventures - A seed-stage venture capital fund, Nama Ventures is focused on fostering innovation throughout Saudi Arabia. Its investments range from early-stage enterprise, blockchain and financial technologies to medical and healthcare solutions.
Riyad TAQNIA Fund - A joint venture between Riyad Capital and TAQNIA, Riyad TAQNIA Fund focuses on investing in early-stage technology startups in Saudi Arabia.
Badir Program for Technology Incubators - Established by King Abdulaziz City for Science and Technology, the Badir Program for Technology Incubators is a technology incubator that provides funding and support to startups in the early stages of development.
Wa'ed Ventures is the corporate venture capital arm of Saudi Aramco, the world's largest oil company. It invests in technology startups across various sectors, including energy, water, and information technology.
Wadi Makkah Ventures - Wadi Makkah Ventures is a venture capital firm established by Umm Al-Qura University in Makkah. It focuses on investing in early-stage startups in education, healthcare, and e-commerce.
And we also list the following incubators which are very active in the entrepreneurship ecosystem in Saudi Arabia:
Falak is a newly created company that serves as a business incubator, accelerator, coworking space, and angel investment firm all rolled into one. Moreover, Falak has already graduated 23 startups from their acceleration. Incubation programs all over the MENA region, which has created 500+ jobs and more to come.
Nomow is a seed investment program that helps passionate and brilliant start-up companies with innovative ideas that have the potential to change the future.
KAUST (King Abdullah University of Science and Technology) and the Saudi British Bank (SABB) founded together TAQADAM in 2016 with the purpose of supporting early-stage firms with innovative ideas.
Startups House Investment Company was founded in 2017 to create an integrated organization to bolster the entrepreneurial ecosystem by supporting small and medium enterprises (SMEs). The company has a vision to transform Saudi Arabia's economy by 2030 and that is why it's making big investments in start-up firms with potential for scalability.
BIAC( Business Incubators and Accelerators Company)Incubators specializes in business incubator setup, operation, maintenance, and administration. It is kind of the incubator for incubators.
SURE International Technology is a corporation that specializes in IT and software development.
Furthermore, Saudi Arabia is becoming a hub for female entrepreneurs. According to Arab News, in 2021, 139,754 new commercial licenses were issued to women, making it the leader of female tech entrepreneurs. Saudi Arabia is also an educational oasis for females in STEM, with Riyadh being the home of the world's largest women's university.